The recipe of the week
Scallop risotto with green peas and rose petals –Valentine's Day / Main dish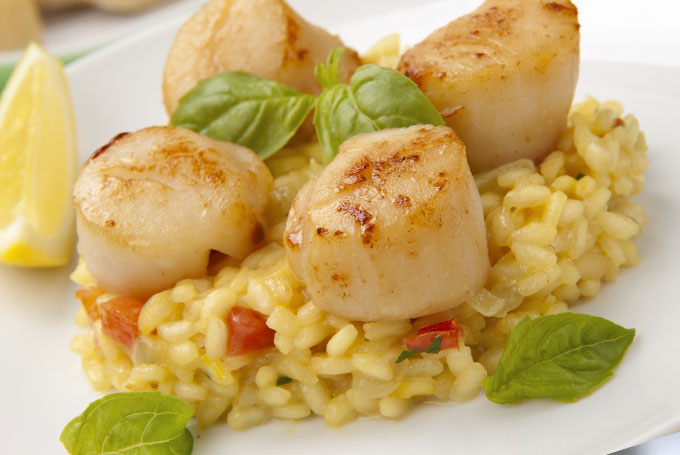 Ingrédients (For 2 lovebirds )
150 g Arborio rice
50 g butter
40 cl chicken stock (2 stock cubes + water)
1 shallot
5 cl white wine
8 large scallops
Grated Parmesan
200 g peas
Préparation
Chop the shallots and sauté them in the butter over high heat, then add the rice. Reduce the heat to a minimum.
Dissolve the stock cubes.
When the rice becomes translucent, add the white wine. Once the wine is absorbed, add a ladle of chicken stock to cover the rice and cook until the liquid reduces. Continue stirring and add the grated Parmesan and peas.
Continue adding stock, ladle by ladle, until there is none left. The rice should be creamy and not dry. Season with salt and pepper.
Sauté the scallops in a pan with a substantial amount of butter. Sear them for a maximum of 2 minutes in order to avoid overcooking them. Season with salt and pepper.
Arrange the rice in a dish and top with four scallops in a square shape. Garnish with a few rose petals around the plate.