The recipe of the week
Artichoke and dried tomato risotto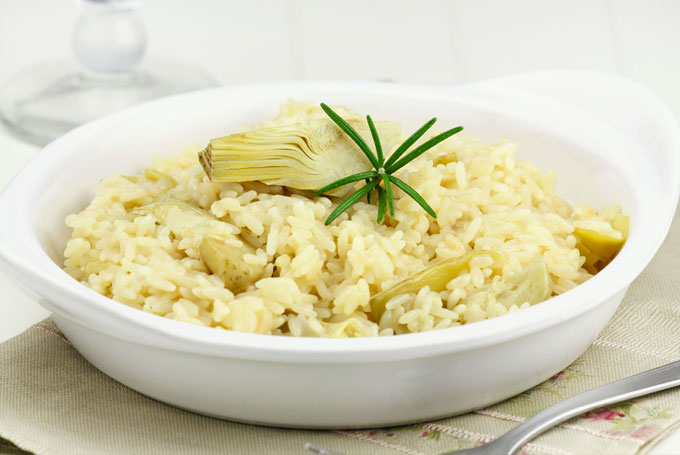 Ingrédients (For 4 people )
6 small (violet) artichokes
100 g dried tomatoes
1 red onion
2 cloves of garlic
Juice and zest of 1 lemon
300 g rice
7,5 dl vegetable stock
2 tbsp olive oil
4 basil leaves
Grated Parmesan
Salt and pepper
Préparation
Remove the outer leaves from the artichoke to reach the light leaves.
Halve each one and remove the fibres with a small spoon.
Press the lemon, place the juice in a saucepan filled with water, and bring to a boil.
Boil the artichokes in the lemon water for 5 minutes and reserve.
Mince the onion and garlic. Heat the oil in a large cooking pot, sauté the onion and garlic, and then add the rice.
Gradually add the stock and simmer, stirring.
Cook for approximately fifteen minutes.
Chop the dried tomatoes and artichokes into small pieces and add them to the mixture, then finish the cooking process.
Mince the basil.
Season, sprinkle with Parmesan and basil, and add the zest of half a lemon before serving with a salad.