The recipe of the week
Terrine of Gruyère, bacon and artichoke - by Ludovic Givre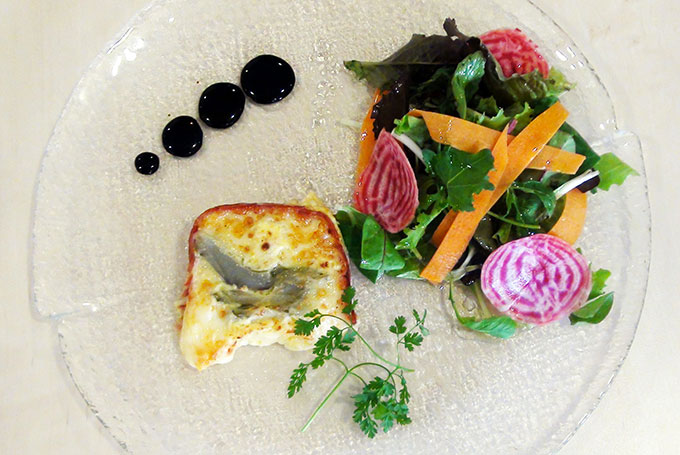 Ingrédients (for 6 people)
600 g de Gruyère, cubed
6 artichoke hearts, cooked
3 egg yolks
2 whole eggs
350 cl liquid cream
10 slices of smoked bacon
¼ l white wine
ground nutmeg
salt and pepper
Préparation
Soak the cubed Gruyère in the white wine overnight.
Combine the whole eggs with the egg yolks, cream, nutmeg, salt and pepper, and then incorporate the drained Gruyère cubes.
Cut a piece of parchment paper to the size of the terrine dish and line it with the slices of bacon. Fit this into the terrine dish.
Pour half of the Gruyère, egg and cream mixture into the terrine and place the artichoke hearts on top. Cover with the rest of the mixture.
Cover the dish with parchment paper and cook in a water bath (bain-marie) at 110 ° for 2 ½hours.
Leave to cool overnight.
Unmould the next day. Cut into 2-cm slices and brown under the broiler until golden.
Serve immediately with a mixed salad topped with walnut oil.